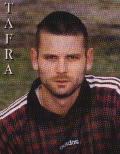 Dzoni Tafra
Born: 23.2.1968.
Place of Birth: Split
Position: Goalkeeper
Height and Weight: 179 / 70
Dzoni is an excelent keeper and you could say one of the best in the world, with amazing reflexes and movment. Before Rijeka he played for Varteks. When he came to Rijeka he was second goalkeeper for a short time.