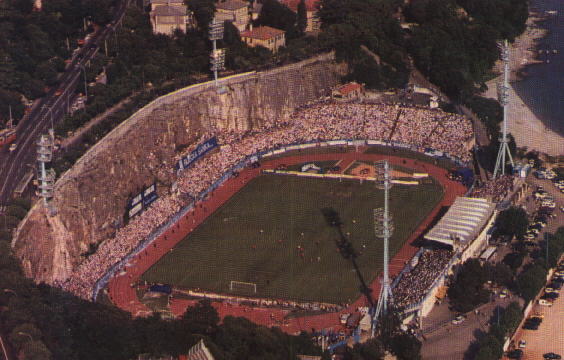 - this was the last match on Kantrida before the renovation, here Rijeka played against Osijek in front of almost 30 000 people
STADIUM "KANTRIDA"
CAPACITY: 12600 (all seater)
- Stadium Kantrida is only 50 metars away from sea, it is a beautiful stadium that was built in place where old stone factory used to be. There are plans to expand its capacity when NK Rijeka enters some of European competitions or if city of Rijeka gets Mediteranian games 2005.
- The biggest attendance was in 1998. before chairs where added. In a match Rijeka-Osijek attendance was 30 000. Last record was 22 000 against Real Madrid in 1994.
- The most famous part of staduium is "west" ( see picture up ) where fans of NK Rijeka are situated every game. Their name is ARMADA.
- Below are some pictures of the stadium and the southern atmosfere that is present when ever FC Rijeka plays.